First of all, look at the beautiful flowers I got last night from D. :) I just hope I can keep them alive!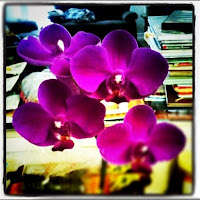 I have really been enjoying having my sister and her kids staying at the house with us.
We have spent more time in the pool in the past week than I have in probably the past couple years! All three kids can kind of fend for themselves a bit in the water now (with the help of water wings and/or a floating seat for the girls.) I can get in the pool in the morning for some exercise while my older niece gets in with me and follows me around in her princess water wings. It has been so much fun.
I think I am going to be heartbroken when they move next weekend. :(
- Posted using BlogPress from my iPhone