So far, having my sister living here has been kind of fun. Last night we made fish tacos and salted caramel tarts together. For the tarts we used
this recipe
.
The recipe itself is not all the great as it lacks in detail, however, the tarts turned out pretty good. One weird thing about the recipe is that it says to serve it warm and does not mention chilling the completed tart. We were making the tarts for today, so ours needed to be chilled. I am not sure how you could have eaten them without chilling them though. They would have been a runny mess (unless our substitution of half and half instead if cream made the caramel more runny than it should have been.)
We used a few broken pieces of dark chocolate candy that we had on hand and mixed it with some semi-sweet chunks and chips.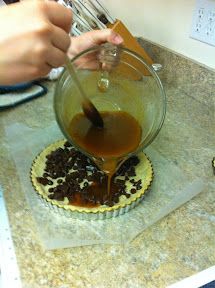 We ended up making two 10 inch tarts and one 4 inch tart.
The 4 inch tart came out of the fridge this morning for testing and was very yummy.
This picture was taken this morning of the chilled tart. The funky spot is from where the foil stuck to it. I can't say it is an attractive dessert, but it sure does taste good!
- Posted using BlogPress from my iPhone